Well, the hubs and I are already having a disagreement on the built-ins in the upcoming build. He's envisioning the TV over the fireplace like this: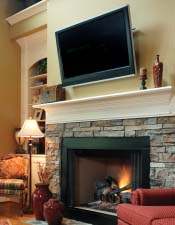 His reasoning:
1) The TV will be in the middle of the built-in wall so viewing will be optimal for everyone.
2) The TV will be higher so everyone in the room can see it better.
Now, I think the rooms above are lovely. And certainly no offense to anyone that has a TV mounted above the fireplace. For some people I think it works wonderfully. My reasoning for not wanting to do so:
1) Our living room's actual seating area will be roughly the same size it is now (around 17x18). I do not like to crane my neck and look up to see the TV. Our current TV is at eye-level and is the perfect height for viewing.
2) His point 2 is invalid because our great room area will also be roughly the same viewing distance and everyone can see our TV at its current height just fine...even from the sink on the back wall in the kitchen.
3) When you mount a TV over the fireplace, the heat shortens its life and voids the warranty.
4) Our current TV is a 55" LCD and can't be mounted. We will have to buy a new mountable TV just for this purpose. No big deal as we'll have to buy him a new TV for his "man" room anyway. But still...
5) I would like the area above the fireplace to be a place to decorate and to be a focal point. Not a TV.
So the real point of controversy (to me) is whether, the TV being slightly off centered (his #2 point) is a big deal for people. Something to think about.
I haven't been able to find as many photos of built-ins with the TV NOT over the fireplace. But here are some halfway decent examples:
Mahoney Architects and Interiors
Sullivan Conard Architects